Never thought Liu Xiang's world record was broken so early! Dayron Robles of Cuba set new world record in the 11-meter hurdles today in Czech Republic. His record is 12″87, Liu Xiang's record was 12″88.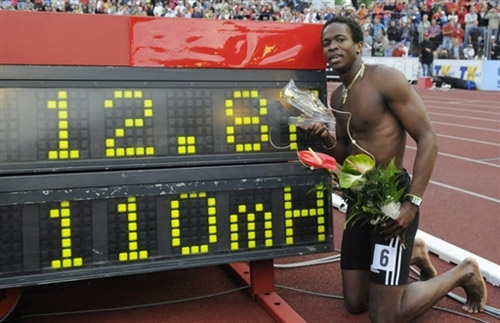 (The following content from google search)
Robles was 0.01 seconds faster than the previous mark, set by China's Liu Xiang at Lausanne, Switzerland, in 2006. Terrence Trammell of the United States was second in 13.21 seconds, followed by Ukraine's Sergey Demidyuk in 13.42.
"It is such a good time, I did not expect that. Wow!" Robles said. "Thanks Ostrava! I am very happy and satisfied. I do not know if I can beat Liu Xiang in Beijing now. But we will see."
The 21-year-old Robles won seven of eight 60-meter hurdles races during the recent indoor season until a disappointing seventh at the World Indoor Championships in March, when he was late out of the blocks because he thought there had been a false start.
He was 2-2 in head-to-head races with Liu in the 110 hurdles in 2007, when he set his previous personal best of 12.92 while finishing fifth at the World Athletics Finals at Stuttgart, Germany, in September.
Robles' record puts extra pressure on Liu, the reigning world and Olympic champion who is China's biggest hope for gold on the track at the Beijing Games. Liu has been hampered by a sore hamstring and last week was disqualified at the Prefontaine Classic for a false start.